A tyre and exhaust centre in Cheshunt, Hertfordshire has seen an increase in brake work since purchasing a Pro-Cut on-car brake lathe.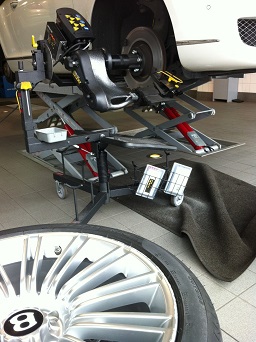 Mr Unique Tyre and Exhaust Centre is a new concept state of the art service centre, offering all types of vehicle repairs. Customers can relax in an Italian café while their vehicle is being repaired. The owners, Steve and Joe Martorana, purchased a PFM 9.0 machine from Pro-Cut 18 months ago and in that time have skimmed well over 400 discs.
In the photo, work is being carried out on a Bentley GT Continental, which has the largest discs of any production car in the UK. The brake skimming service has been so popular that the owners of Mr Unique are considering upgrading their machine to a PFM9.2.
Mr Unique can be found on the web at www.mr-unique.com.