Why resurface discs?
The short answer is to help you offer a better brake service and improve your bottom line.
Some people consider that brake disc skimming is an old-fashioned practice that went out 20 years ago. Not true. Today's on-car brake lathe technology, where Pro-Cut is the world leader, enables discs to be skimmed quickly, efficiently and with amazing accuracy. You can offer this as a supplementary service which makes you additional profits.
Brake discs should be re-surfaced when:
Brake pads are changed but new discs are not necessary, which happens in at least 50% of brake servicing. There is no bedding in, and your customer has perfect brakes as they leave your workshop.
There is evidence of brake vibration due to disc thickness variation (DTV) or excessive run-out. For this problem, using an on-car lathe is the only permanent solution. To watch a short video explaining this click here.
Discs are corroded. A common problem in northern climates, corrosion can result in poor braking performance or imbalance. And sometimes it is just plain ugly, especially on used cars in the showroom!
Brakes are noisy. When new pads are fitted to 'lipped' discs, 'brake squeal' can result. This can be corrected by skimming the discs to remove lips and give perfectly flat disc surfaces.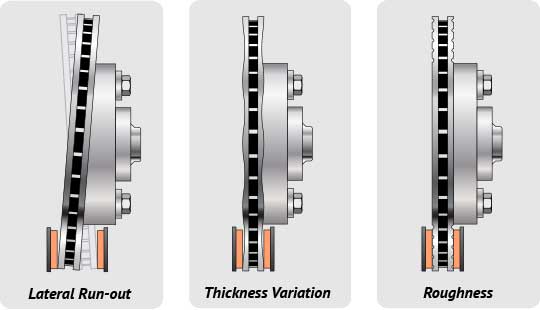 And by the way - you'll still sell new brake discs as they must be replaced when below minimum thickness.
No brake lathe in your shop? 
You're missing out!
In other words - why invest in a brake lathe? The simple answer is improved profitability. Here's how.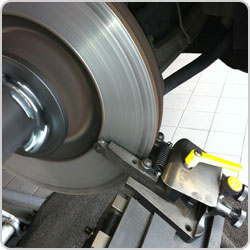 If you're regularly doing brake work you'll be replacing discs when they're worn below minimum thickness. But a lot of discs are well above minimum and on these you're probably just replacing pads. After you've fitted new pads you advise your customer to go easy for the next few hundred miles while they bed-in. For at least those few hundred miles the brakes could be worse than when the customer drive into your workshop!
This is the opportunity to offer a skim as well as new discs. Your customer drives away with perfect brakes (no bedding-in needed now!) and because the two surfaces are flat there will be no 'hot spots' so pads and discs will wear evenly and last longer.
And that's not all! Every now and then a customer comes to you with brake judder. This is nearly always a result of disc/hub run-out which causes Disc Thickness Variation (DTV). Just fitting new discs won't solve this problem. There will still be run-out and DTV will eventually return, causing brake vibrations. Without an on-car brake lathe you can't solve this problem.
Result? Happy customers who return to you for service work, and higher value brake jobs! Your investment is re-paid rapidly and your workshop is more profitable.
Not sure what this means for you? We've supplied thousands of machines and understand the numbers. Call us for a discussion of how you can improve your profitability.
Myths and facts
There are plenty of myths flying around about disc skimming. It's not some mysterious black art but high-precision engineering. So here we correct some of these.
MYTH: Brake disc skimming makes discs too thin. 


FACT:

 If a set of discs was too thin in the first place they should be replaced. We'd never argue with that. But…. the machining process removes only the tiniest slice. Pro-Cut's on-car brake lathe shaves off typically just 0.3 to 0.5mm of total disc thickness. So if there was at least this amount of material left on the disc, skimming it is not a problem.
MYTH: Brake disc skimming doesn't solve brake judder. 
FACT: Pro-Cut PFM machines have been around since 1999. Since then they've been tested and approved by almost every vehicle manufacturer, because they solve brake vibration problems. With some makes of vehicle it's mandatory for the dealership to have the machine. Pro-Cut's machines work directly on the vehicle, taking account of any hub run-out. The fact is that the automatic 'compensation' mechanism reduces run-out to below 0.025mm (or 1 'thou'). The disc is then 'matched' to the hub, and the surfaces machined at precisely 90 degrees to the axle. There is no Disc Thickness Variation, eliminating any possibility of brake judder.
MYTH: You don't need to skim discs on the car. 
FACT:Yes you do! You can of course skim discs off the car, using a bench lathe. But why would you want to spend time removing the disc and then refitting it? And more importantly, off-car machining doesn't take account of any hub run-out or unwanted particles between mating surfaces. You must make sure the disc is actually matched to the hub to which it's fitted, meaning that the disc has to be machined on the car.
MYTH: There are lots of vehicles whose discs you can't skim. 
FACT: With their hub-mounted design, Pro-Cut brake lathes can skim any disc on any vehicle up to 3.5 tonnes. This includes all front and rear discs, solid, vented, cross-drilled and slotted discs.
MYTH: Disc skimming is long and arduous. 
FACT: With Pro-Cut the process is amazingly easy and quick- just 9 minutes per disc. After removing the brake pads it's just 4 simple steps: (1) Attach a hub adaptor in place of the wheel (2) Connect the Pro-Cut lathe to the adaptor (3) Press the auto-adjustment button (4) Cut the disc. And for half of the 9 minutes the machine is operating automatically so the technician is free to do other jobs. To watch a short video of this click here.
Why Pro-Cut?
There are a few other designs of brake lathes available. We're confident that, with many years of hard work and continuous product development Pro-Cut provides the best solution. Here's why.
Fast, precise and easy to use. Pro-Cut lathes require 9 minutes per disc, reduce disc run-out below 0.025mm and are simple for any technician to use.
Pro-Cut is the world leader in this technology. Pro-Cut ONLY make brake lathes, nothing else. But there's no resting on laurels. For the last 20 years the team at Pro-Cut have continuously improved their machines, perfecting every aspect to best suit user's needs.
Manufacturer approvals. Pro-Cut has worked with nearly every vehicle manufacturer, gaining engineering approvals for its unique design. And some manufacturers have made Pro-Cut's PFM lathe a mandatory tool in their dealer networks.
After-sales service. We want you to get the most out of your machine. The professional team at Pro-Cut is focused on supporting you with expert technical and commercial advice. Our team of experienced service engineers delivers a rapid response across the entire British Isles. Over many years we've delivered and installed every machine in the UK, trained thousands of customers and skimmed discs on every type of vehicle, so our product and application knowledge is unparalleled.
Marketing support. We know you're busy with a thousand things to do every day. So we'll help you, the workshop, promote the disc skimming service. It starts with our Drivers' website Skim My Discs which helps the motorist find their nearest garage with Pro-Cut equipment. In other words they'll easily find your workshop. Then we can offer a range of tools to help you explain clearly the benefits of having discs skimmed and how the process works. To watch a video to help promote the disc skimming service at your workshop click here.