Neil Skuse of Westerleigh cars in Bristol likes to be different. He knows that by offering something that other garages can't he will deliver better service, attract more customers and increase his revenues and profits.
That's why in late 2012 Neil invested in a wheel alignment kit, which paid for itself quickly. And that's also why Neil invested in a Pro-Cut on-car brake lathe in January 2014.
After 3 months of using his Pro-Cut machine Neil is delighted. He commented:
Our technicians like using it, customers like the results it gives and I'm pleased that it is getting the use that we predicted. In fact one or two customers have even given us positive feedback on our Facebook page".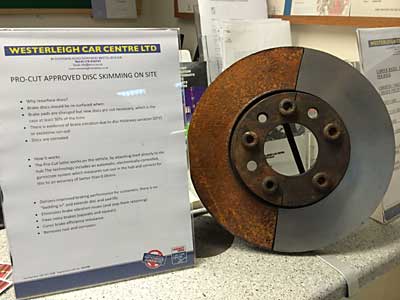 The picture shows Neil's counter-top display which attracts a lot of attention.
The Pro-Cut on-car brake lathe skims discs directly on the vehicle. It corrects run-out and eliminates brake vibration, removes rust and ridges and delivers prefect braking for much less than the cost of replacement discs."